Date: 29th March, 2017
Review by Nathan Slack
Here I am again in hallowed ground, stomping the sticky floorboards of Camden's Underworld for another night of extreme metal mayhem. Old Empire have certainly had a busy time lately and April and the coming months are crammed full of metal goodness and as I slink my way through the early crowd onto the stage floor to catch tonight's openers, I wonder if the crowd know just how lucky they are to have such great shows and line ups and how much work goes into shows like this one right here.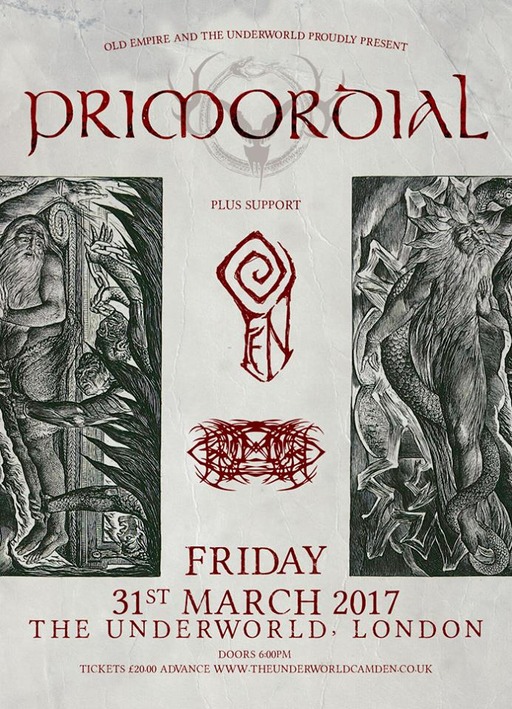 Tonight is a very intimate show for tonight's headliners, Primordial, as they descend on our shores once again, crossing over the Irish Sea for this one off London gig.
A sort of warm up as it were to their coming appearance at Scotlands Lords of the Land festival. It's certainly a small stage for their enigmatic leader and I'm eager to see how the crowd react to being so close to the satanic piped piper.
Firstly come Crom Dubh, London's Viking black metaller's. They themselves quietly take to the stage but to more than a few cheers from the knowing crowd, their faces blacked up in soot. There's a fair few people here and the bands heavy black metal riffs have some early headbangers as they go in heavy. The Englishmen give it their everything and the lead has a good set of lungs on him and thrashes his long curly hair about his blackened features. Its a solid sound, one that I've admired before. They give it their all and are worthy openers and set the scene for more Celtic inspired metal later on in the night. (6/10)
Next is up Fen, one of my must see bands for 2017. Hailing from the Fens myself I feel obligated to catch this show as they have a new album out and new material. Seems as most of their tracks are on the longish side I really had hoped they would have enough time to squeeze in some of their older stuff. I'm not disappointed as they played at least 2 tracks from Epoch.
These tracks are a delight to hear live and Fen more than lived up to expectations. The lead singer looks a little uncomfortable as he plays some intricate guitars and screams at the same time but who can blame him? They are gone all too soon heading towards Leeds and a slot at the Rituals festival but I will definitely be catching them again no doubt. (8/10)
It's not long before Primordial take to the stage, the lights go out and the band start to play a slow intro, lead singer Nemtheanga, takes to the stage his large wide eyes gaze manically over the underworlds denizens. His clothes are in tatters and grey like ash, making him look like a ghoulish leper.
He stands ready then frowns and swears muttering as he disappears in a swish of rags. The damn roadie forgot his bloody microphone didn't he? Rather comically he comes back onto the stage giving said roadie a glare that could have withered flowers, mic now safely in his capable hands.
They go straight into one of their best tracks in my mind, Where Greater Men have fallen, title track to their last studio album. It's a great start and Nemtheanga's antics on stage really bring in the crowd as he plucks at imaginary strings in thin air like he is our devilish puppet master.
There's a few over-excited fans in the front row that are either being crushed to death or about to faint at the singers feet. I'm not sure which as a few rather over exuberant drunk lads pull me into a ill advised circle pit that no one wants at that precise moment. Nemtheanga and the security are a little concerned over the girl at the front but fail to see me being circle pitted into that damn pillar. One day me and that pillar are having words.
The following songs follow on in a blur until Babels tower, Gods to the Godless and As Rome Burns bring the set to its zenith and crowd surfers cascade onto the stage next to the singer. I can't deny that he has a great stage presence, due mainly to the fact that he is completely free from any musical instrument. His hands are constantly expressive and it does feel like his fingertips are commanding us to engage with what's happening on stage. Slower track, Coffin ships also shines here but it's the final track of the night (with no encore) , Empires Fall that bring old the older fans in the heavy leather jackets and gets the best reaction of the night.
It's been a hugly successful sold out show that they have managed to cobble together, one that I enjoyed greatly, Nemtheanga finally exits the stage and our strings can now relax. (9/10)
Setlist:
1. Where Greater Men Have Fallen
2. The Golden Spiral
3. No Grave Deep Enough
4. The Soul Must Sleep
5. Babel's Tower
6. Gods to the Godless
7. As Rome Burns
8. Traitors Gate
9. The Coffin Ships
10. Bloodied Yet Unbowed
11. No Nation on This Earth
12. Wield Lightning to Split the Sun
13. Empire Falls